Game 15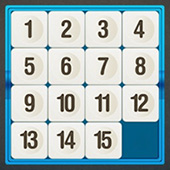 Game 15 is one of the most popular puzzle games in the world. The original version is a set of 15 square chips arranged in a square box. Using an empty cell to move, you need to rearrange the pieces so that they were in order from 1 to 15 from top to bottom. The number fifteen and gave the name to this puzzle.
On our site there are 4 variations of this game with a different field size - 3x3, 4x4, 5x5 and 6x6. To play was interesting but the numbers on the tiles coated parts of different pictures of the puzzle section. After collecting the chips in the correct order, you will get also a picture!
You can also compete in solving pyatnashek speed! Your speed is automatically fixed in the ranking if the puzzle is solved "at a time", ie, without using the save and then download!

2019-06-27

nettaly
20
17
12
3
0
2

2019-04-20

olenenok
50
25
13
3
10
5

2019-05-21

anikina
20
88
15
0
1
1
Puzzle №88969

Size: 4x4
Rating:
Difficulty:
2019-07-24 07:51
Times solved: 21
x1+ Coal 100%
Speed: 02:23

Puzzle №88970

Size: 4x4
Rating:
Difficulty:
2019-07-24 07:51
Times solved: 20
x1+ Blue Crystal 100%
Speed: 04:04

Puzzle №87988

Size: 4x4
Rating:
Difficulty:
2019-07-18 09:17
Times solved: 30
x1+ Green Crystal 100%
Speed: 03:40

Puzzle №98589

Size: 5x5
Rating:
Difficulty:
2019-09-06 03:17
Times solved: 71
x1+ Green Crystal 100%
Speed: 04:03

Puzzle №98812

Size: 6x6
Rating:
Difficulty:
2019-09-23 20:07
Times solved: 32
x2+ Knife 29%
Speed: 05:01

Puzzle №91102

Size: 6x6
Rating:
Difficulty:
2019-08-05 15:00
Times solved: 39
x1+ Ore 100%
Speed: 14:38

Puzzle №97565

Size: 6x6
Rating:
Difficulty:
2019-09-02 14:16
Times solved: 58
x1+ Stone 100%
Speed: 05:59

Puzzle №99186

Size: 6x6
Rating:
Difficulty:
2019-09-23 20:25
Times solved: 41
x2+ Axe 15%
Speed: 04:36

Puzzle №1467

Size: 5x5
Rating:
Difficulty:
2016-10-31
Times solved: 215
x2+ Blue Crystal 100%
Speed: 11:31

Puzzle №91279

Size: 6x6
Rating:
Difficulty:
2019-08-06 10:09
Times solved: 17
x1+ Blue Crystal 100%
Speed: 08:18

Puzzle №92877

Size: 5x5
Rating:
Difficulty:
2019-08-14 04:17
Times solved: 20
x2+ Fresh Water 67%
Speed: 04:30

Puzzle №90222

Size: 4x4
Rating:
Difficulty:
2019-07-31 10:22
Times solved: 17
x1+ Clay 100%
Speed: 02:45

Puzzle №102772

Size: 6x6
Rating:
Difficulty:
2019-10-11 03:35
Times solved: 13
x2+ Sea Water 100%
Speed: 04:00

Puzzle №38132

Size: 6x6
Rating:
Difficulty:
2018-08-13 22:42
Times solved: 76
x1+ Red Crystal 100%
Speed: 14:09

Puzzle №103029

Size: 5x5
Rating:
Difficulty:
2019-10-10 03:17
Times solved: 7
x2+ Ore 100%
Speed: 04:51

Puzzle №97521

Size: 6x6
Rating:
Difficulty:
2019-09-13 09:05
Times solved: 30
x2+ Pig 50%
Speed: 03:59

Puzzle №89473

Size: 4x4
Rating:
Difficulty:
2019-07-27 04:01
Times solved: 30
x1+ Stone 100%
Speed: 04:26

Puzzle №101611

Size: 6x6
Rating:
Difficulty:
2019-09-27 03:17
Times solved: 21
x2+ Collecting brushwood 80%
Speed: 04:14

Puzzle №5803

Size: 6x6
Rating:
Difficulty:
2017-01-26
Times solved: 82
x1+ Sea Water 100%
Speed: 12:19

Puzzle №90227

Size: 4x4
Rating:
Difficulty:
2019-07-31 10:36
Times solved: 24
x1+ Ore 100%
Speed: 04:10

Puzzle №94657

Size: 5x5
Rating:
Difficulty:
2019-08-22 03:17
Times solved: 29
x1+ Oil 100%
Speed: 02:55

Puzzle №90594

Size: 6x6
Rating:
Difficulty:
2019-08-02 16:43
Times solved: 10
x1+ Coal 100%
Speed: 08:36

Puzzle №92651

Size: 6x6
Rating:
Difficulty:
2019-08-13 03:17
Times solved: 13
x3+ Paper 60%
Speed: 10:18

Puzzle №100976

Size: 5x5
Rating:
Difficulty:
2019-09-21 03:17
Times solved: 34
x1+ Blue Crystal 100%
Speed: 02:33

Puzzle №88965

Size: 4x4
Rating:
Difficulty:
2019-07-24 07:48
Times solved: 18
x1+ Coal 100%
Speed: 01:44

Puzzle №5033

Size: 4x4
Rating:
Difficulty:
2017-01-08
Times solved: 73
x1+ Coal 100%
Speed: 03:30

Puzzle №89127

Size: 6x6
Rating:
Difficulty:
2019-07-25 03:17
Times solved: 48
x2+ Stone 100%
Speed: 05:12

Puzzle №1846

Size: 5x5
Rating:
Difficulty:
2016-11-05
Times solved: 55
x1+ Blue Crystal 100%
Speed: 09:28

Puzzle №20449

Size: 6x6
Rating:
Difficulty:
2018-01-08
Times solved: 61
x1+ Oil 100%
Speed: 04:15

Puzzle №3837

Size: 4x4
Rating:
Difficulty:
2016-12-11
Times solved: 85
x1+ Stone 100%
Speed: 02:53